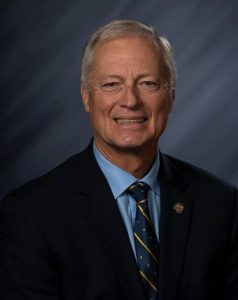 (State Legislature) – Rep. Randy Frye (R, Greensburg) has announced that he will retire after serving the 67th House District after serving in the House for 13 years.
Fry's resignation will take effect on July 8.
He represents parts of Decatur, Jefferson, Jennings, and Ripley counties.
During his 13 years in the state legislature, Mr. Fry served as chairman of the House Veterans Affairs and Public Safety Committee and as a member of the House Roads and Transportation Committee and the House Public Works, Energy and Telecommunications Committee.
"I've dealt with multiple health issues over the last few years, and now is the time to focus on my health and that of my family," Fry said. "It has been the honor of my lifetime to represent the hardworking Hoosiers in the 67th Congressional District. Or stand up to defend the sanctity of the Constitution.I believe we have made great strides during my tenure, and Indiana's future looks brighter and brighter. ing."
During the 2023 Congress, Mr. Fry successfully drafted a new law exempting active duty military members from state income taxes starting next year. This will allow more out-of-state military personnel and their families to come to Indiana to fill the state's population, he said. State Workforce Pipeline.
Mr. Fry supported efforts to expand Indiana's Safe Haven law, which allows parents to anonymously hand over babies under 30 days old as long as the child is not harmed.
He also passed legislation allowing the use of Safe Haven Baby Boxes.
These safety devices are temperature controlled with an alarm system that alerts first responders when an infant is placed inside.
Safe Haven Baby Boxes were recently dedicated in Ripley County, including Versailles and Milan.
More than 100 baby crates have been set up across Indiana, and more than 20 babies have been successfully delivered.
"Randy has spent his legislative career as a strong advocate for all Hoosiers who wear or serve their state and nation in uniform. But he understood their needs and worked hard to find solutions on their behalf," said House Speaker Todd Houston (Republican Fishers). "I am praying for his retirement."
A longtime legislator in Southeast Indiana, in 2015 he drafted legislation to establish the Indiana Fire Academy and established a standard curriculum for all fire departments in the state.
Fry worked for the Indianapolis Fire Department for more than 20 years before becoming a state legislator.